Trump Blasts RINO Chris Christie After Christie Said It's Time To Move On From The 2020 Election
RINOs continue to fight against those trying to secure our election system.
RINO Chris Christie ran to CNN to tell Trump to stop talking about the 2020 election steal.
Former New Jersey Gov. Chris Christie said former President Donald Trump needs to "tell the truth" about the 2020 election and move on.

Christie also had advice for the GOP, saying that if it wants to build on electoral wins — like Glenn Youngkin's win in Virginia's heated gubernatorial race last week — Republicans need to move past Trump's voter-fraud claims.

In an interview with CNN this weekend, Christie said he thought Trump could be a "very positive force for Republican candidates" in the 2022 midterm elections if he would start "talking about the future and tell the truth about the election and move on."

…

Christie told CNN that with the midterms coming up, Trump must decide if he wants to be "a leader for tomorrow or a figure of yesterday."

"We can no longer talk about the past and the past elections — no matter where you stand on that issue, no matter where you stand, it is over," Christie said at the conference, per CNN. "People want us to be direct with them. They want someone to fight for them. But they want them to fight in a way that doesn't hurt their ears."
Now, we have this.
Trump released a statement blasting Chris Christie.
NEW!

President Donald J. Trump:

"Chris Christie, who just made a speech at the Republican Jewish Coalition (RJC) in Las Vegas, was just absolutely massacred by his statements that Republicans have to move on from the past, meaning the 2020 Election Fraud. Everybody remembers… pic.twitter.com/D91UVPHS6t

— Liz Harrington (@realLizUSA) November 8, 2021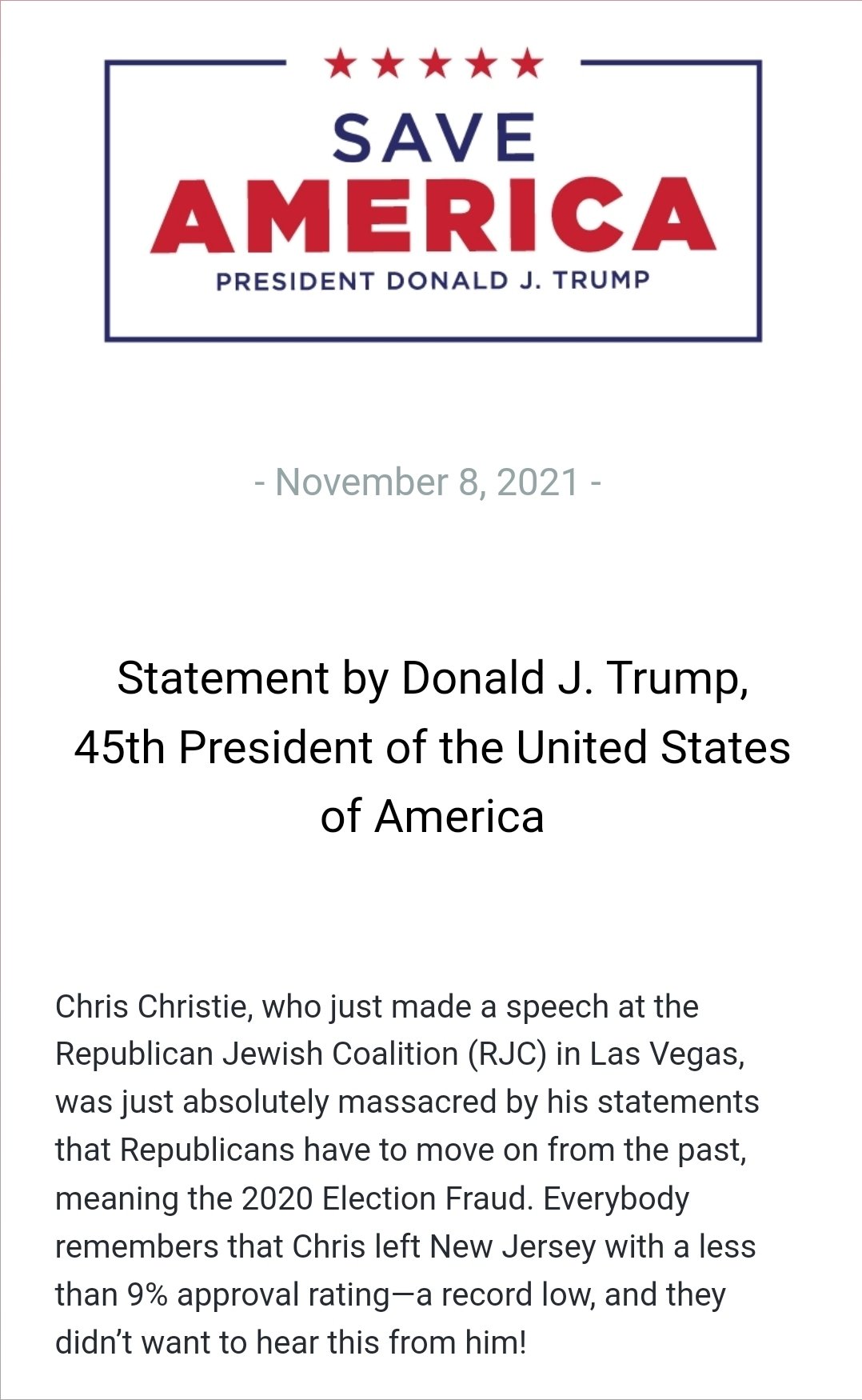 Will someone show Chris Christie these numbers yet?
Join the conversation!
We have no tolerance for comments containing violence, racism, profanity, vulgarity, doxing, or discourteous behavior. Thank you for partnering with us to maintain fruitful conversation.