"He Could Have Overturned The Election!"–Trump Releases Statement On Electoral Certification
Did you know the Pro Trump News homepage has 60 new headlines every 24 hours? Click here to check it out!
45th President Donald Trump continues to hammer the establishment over the 2020 election steal.
Trump once again blasted his decision on certifying the election.
Trump also pointed out that if Pence didn't have the authority to overturn the election why would they be attempting to change the law?
Statement by Donald J. Trump, 45th President of the United States of America pic.twitter.com/3jYTQUGh2s

— RSBN 🇺🇸 (@RSBNetwork) January 31, 2022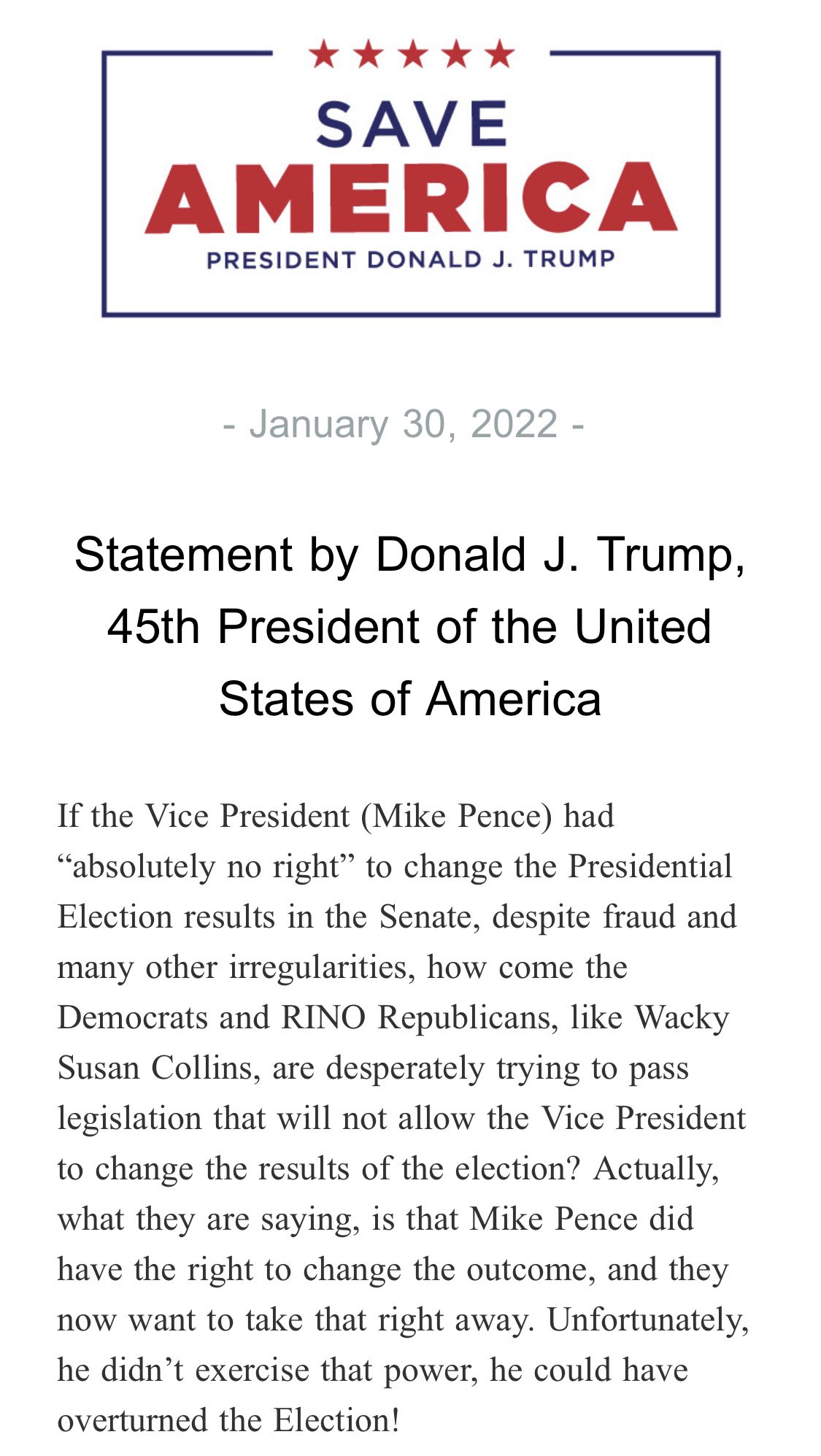 A bipartisan group is trying to change the law Pence would have used.
Sen. Susan Collins (R-Maine) convened a Zoom call late Wednesday afternoon as a cross-section of lawmakers from Sen. Tim Kaine (D-Va.) to Sen. Ron Johnson (R-Wis.) and Sen. Steve Daines (R-Mont.) have expressed openness to reforming the outdated bill.

A person familiar with the call characterized it as a "wide-ranging discussion of election issues," including the option to update the Electoral Count Act of 1887 to clarify the role the vice president and Congress play in certifying presidential elections.
Besides Collins, the participants were Sens. Kyrsten Sinema (D-Ariz.), Joe Manchin (D-W.Va.), Sen. Thom Tillis (R-N.C.), Jeanne Shaheen (D-N.H.), Mitt Romney (R-Utah) and Roger Wicker (R-Miss.), the person told Axios.